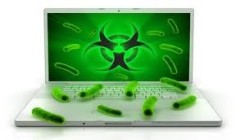 A virus attacks when a user runs an infected program or accesses information from an infected disk. A virus can spread without being detected. As the virus spreads it can infect more and more programs, eventually stealing information and could be used to attack major websites. Viruses these days are used primarily to steal information but can also create damage to your computer. Worms and Trojans are two types of viruses that can infect your computer, but there are many others.
Most Computer companies do not effectively remove viruses and do not educate customers on how to avoid this problem in the future. At Computer Solutions we guarantee to remove these viruses and will even warranty our work. We are dedicated to helping you avoid this problem in the future and will educate you on how to protect your computer from becoming infected.
At Computer Solutions were no stranger to dealing with Virus and Spyware
That's why we were the only computer company in town willing to stand behind their work. If after receiving our Advanced Virus and Spyware Service you receive an infection. We will cover the cost to clean it again free for 1year Guaranteed or your money back.
Virus and spyware is any software that is causing your system problems. Our support team has repaired hundreds of infected computers, restoring them back to working condition, GUARANTEED! Call: (912) 921-7889