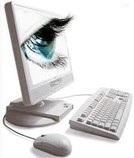 Spyware Refers to software that "spies" on your computer and steals your passwords and other personal information. Adware is pop ups (unwanted advertisements) using stolen information by spyware components. Which target you based on your interests. Spyware removal is essential to keeping your information from falling into the wrong hands. Spyware can cause great harm not only to your computer, but to you personally. If you suspect you have spyware on your computer contact Computer Solutions right now to remove spyware before a problem occurs.
At Computer Solutions were no stranger to dealing with Virus and Spyware.
That's why we were the only computer company in town willing to stand behind their work. If after receiving our Advanced Virus and Spyware Service you receive an infection. We will cover the cost to clean it again free for 1 year Guaranteed or your money back.
Virus and spyware is any software that is causing your system problems. Our support team has repaired hundreds of infected computers, restoring them back to working condition, GUARANTEED! Call: (912) 921-7889